Minds for Minds welcomes Steven Joyce as our new patron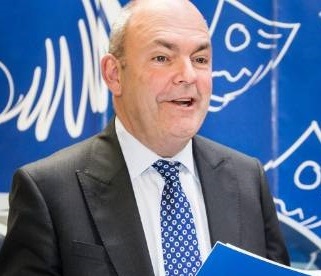 Former National Party Finance Minister Hon Steven Joyce is taking on his first public role since leaving Parliament and he's getting behind a cause with a very personal connection.
As the new patron of Minds for Minds Charitable Trust, an organisation dedicated to supporting research into Autism Spectrum Disorder (ASD), Mr Joyce is stepping into a familiar area. His eight-year old son Tommy has ASD and is exactly the sort of person the work of the Trust is focused on helping.
"I know personally the big impact that ASD has on those directly affected and their families, ASD is one of the most acute developmental challenges the world struggles with.  We need to know much more about the condition than we do currently." – Mr Joyce
Led by University of Auckland research academics, Professor Russell Snell, Dr Jessie Jacobsen, Associate Professor Mike Taylor and neurologist Rosamund Hill, the Minds for Minds Research Network is working to better understand ASD, with a big focus on the genetics behind ASD using DNA sequencing technologies. The goal is to improve long-term outcomes for families and where appropriate, refine treatment options for those that need them. 
Chair of the Trust, Josephine Wallis, says autism affects some 65,000 New Zealanders and its effects range from people who have a mild struggle with social interaction through to those with extreme issues with language, social behaviour and cognitive skills.
"Early diagnosis and intervention can make a real difference; our researchers are hoping to address both of these areas." she said.
"We are so pleased Mr Joyce is willing to contribute to what we are doing as our Patron, to help raise awareness of the impact of autism on New Zealand families and of the need for ongoing research."
Steven Joyce, who identified spending more time with his family and particularly Tommy was one of the drivers of his departure from politics, says this is a cause close to his heart and one where he believes New Zealand researchers can make an international contribution.
"New Zealand is the home of some of the smartest lateral-thinking researchers and innovators anywhere.  Our unique outside-in perspective from 'the bottom of the world' can help with this challenge in the same way we help with so many others."
"A better understanding of ASD will improve the quality of life for millions of people all around the world. If I can support the work of the very talented Kiwi scientists working on ASD, then I'll be putting my political and commercial experience to very good use."
Members of the Minds for Minds Research Network encompass a wide range of research activities (genetics, microbiology, psychology, physiology, immunology, audiology, speech language therapy). It aspires to be to a place for all those working on ASD in New Zealand to meet, share ideas, resources and build effective collaborations.
Current research includes using new technologies to identify the genetic basis of autism and related disorders and modern molecular biology techniques to investigate the role, if any, played by gut microbes.
Individuals and families with members on the spectrum who are interested in participating in research or to find out more, should visit www.mindsforminds.org.nz
For more information contact us at [email protected]